by Sheri McGregor, M.A.
I get a lot of stones thrown at me. As the author of Done With The Crying: Help and Healing for Mothers of Estranged Adult Children
, I've been the subject of meanness and jibes. I've also learned to collect those stones and get creative at using them for good. Even if you don't think so, in overcoming adversity, I bet you're a stone collector too.
The stone pits of life can be hurtful words, mishaps, misfortunes, a bad day or a bad diagnosis. Whatever gets thrown at you, it can help to remember the fable, Stone Soup, where hungry strangers began a soup pot with all they had (stones). The townspeople then helped them by bringing what they could from their cupboards or gardens. In the end, people shared and helped each other, and everyone enjoyed the meal. The story's moral is about the good that comes from sharing, even if it begins with a stone.
Let's look at a few examples of those who took the stones life threw at them and shared what they learned in overcoming adversity to help other people.
Writing to heal
Mari McCarthy took scary symptoms and a diagnosis of multiple sclerosis as an opportunity to learn about herself, discover how to manage her symptoms, and ultimately to make stone soup she could share with others. Her book Journaling Power: How To Create the Happy, Healthy, Life You Want to Live
  is an inspirational work about how she used writing to heal—and how you can, too. The book contains insights about the concept of expressive writing, the science behind how it helps, and Mari's own healing journey. I listened on audio, which was a peaceful meditation of sorts.
In McCarthy's newest book, Heal Yourself with Journaling Power
, she expands the practice. You'll find poignant personal stories from those who have benefited, as well as the experiences of professionals who know the power of journaling and recommend it.
McCarthy's books
are written in a caring and light tone, which a line from her biography demonstrates: "Journaling for the health of It to heal the issues in their tissues and to grow and transform their life."
The books are available in paperback, e-book, and audible.
Coming to terms … and thriving
In his book, When There Is No Cure: How to Thrive While Living with the Pain and Suffering of Chronic Illness
, Craig K. Svensson, PharmD, PhD, covers material not often thought about by those who haven't suffered something incurable. Troubles such as figuring out what's wrong when symptoms don't point to an easy answer, handling the hurtful things (even well-meaning) people say, and choosing from among treatments the medical professionals aren't certain will work . . . and could even be harmful.
This book fits a broad audience of those living with chronic illness of any sort, even that which isn't clearly defined. Pain that's not explainable, for example, or a variety of troubling symptoms that aren't always taken seriously. When There Is No Cure is filled with practical and specific advice such as what to say when your busy clinician isn't listening, and how to go about making critical medical decisions. Svensson also addresses the more emotional elements of illness, such as regret about things you did or didn't do in your life, which may have contributed to ill health.
The shared experiences from the author, a chronic sufferer himself, and those of the people he included in the book are moving, but it's Svensson's voice of kind authority that infuses the reader with confidence. If you're suffering yourself, or helping a loved one who is searching for answers about living with chronic illness or a diagnosis for which there is no cure, When There Is No Cure: How to Thrive While Living with the Pain and Suffering of Chronic Illness
can help.
Making soup (or castles!): overcoming adversity
Most of us like to root for the underdog, and today, stories of those who overcame huge adversities are at our fingertips. In overcoming adversity, these people inspire others, change the world, and make a difference. I've linked to a series of short profiles in a slideshow below. Scroll through when you're feeling low. There's even an inspiring dog in the mix. Ultimately, we all have something to overcome—and knowing we're not alone aids our determination and fuels our healing spirit.
14 stories of overcoming the odds: Unforgettable stories
In moving forward after adversity, people learn from their experiences and then use them to build up strength. A 2008 study of older persons found that the most resilient were participants who could speak of things they'd been through in the past-tense, and then use those memories to see themselves as overcoming adversity, getting past those stressors, and going on to thrive. In examining their past woes, these people learned from the specific ways they moved forward despite adversity and were confident they could use similar techniques in the future—so there was nothing ahead they couldn't survive. What a confidence builder!
In Done With The Crying
, there's an exercise to help readers use this same technique to build resilience. If you're undergoing any sort of adversity, look to your past and any incidence where you managed, lived to tell, or overcame. Take note of the techniques you used. Did you seek advice? Give in? Talk to friends? Do what you knew was right despite others' opinions? Ultimately, your own experiences can be the best teacher.
Healing soup
At times, all of us have burdens or stress. How we use those "stones" is a personal choice. Rather than haul in a heavy pack that slumps the shoulders and drags you down, how about collecting them for something good?
Next time someone throws a "stone" at you, add it to the soup pot. That might mean building a castle of sorts, like Raymond Isadore of France did.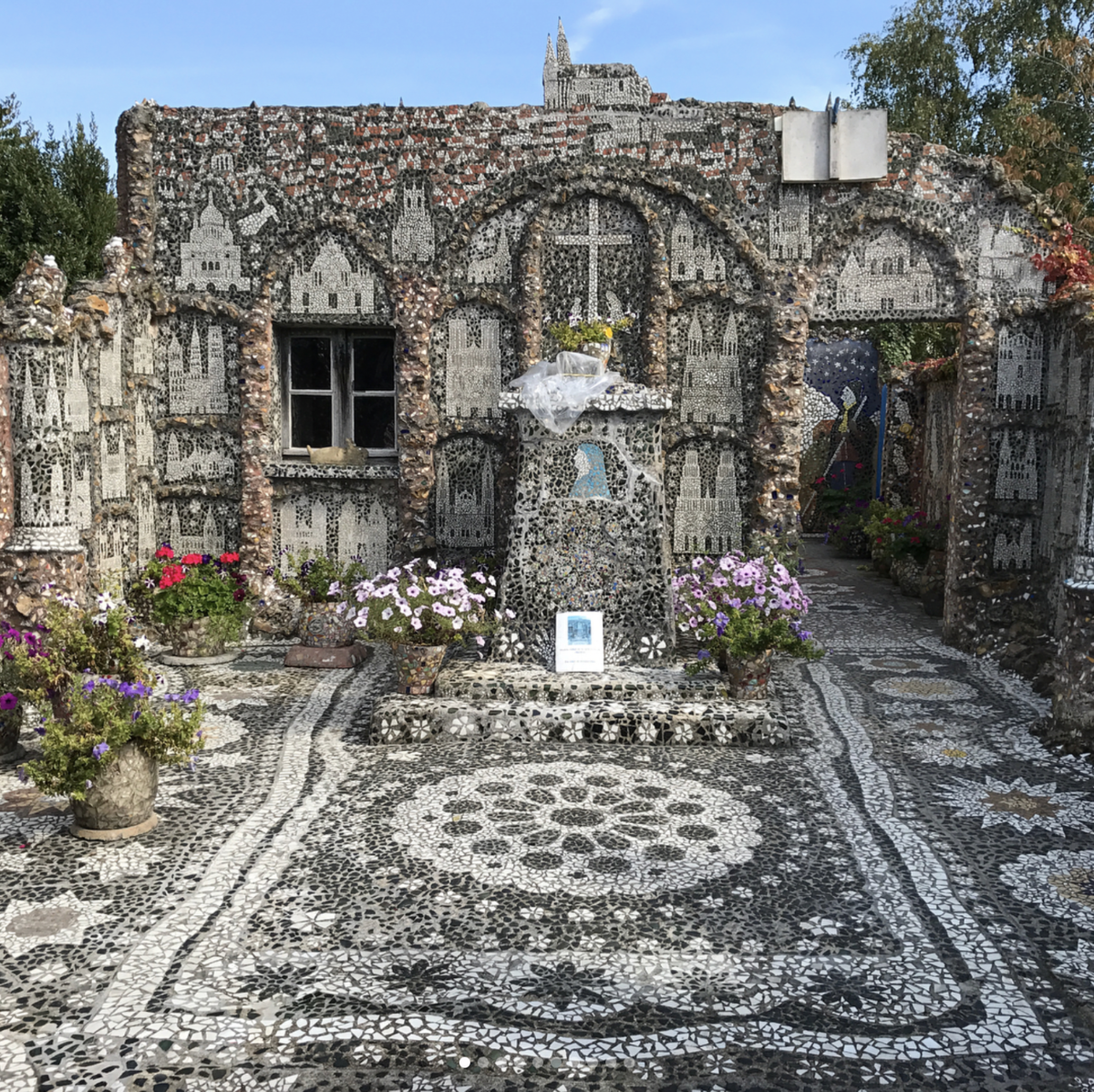 As Isadore covered his cottage in mosaic art created from the bits of trashed glass and ceramic shards, he was the butt of his cynical neighbors' jokes—but he continued to work, turning trash into artful treasure. (Read more about Isadore here.)
You can add to the healing soup. Help someone by sharing your thoughts about something tough you've been through and how you've healed. Hit the reply/comment link, won't you? Just as they do in the fable, you can share, and lighten your own and others' burdens.
Referenced Study:
Hildon, Z. , Smith, G. , Netuveli, G. and Blane, D. (2008), Understanding adversity and resilience at older ages. Sociology of Health & Illness, 30: 726-740. doi:10.1111/j.1467-9566.2008.01087.x